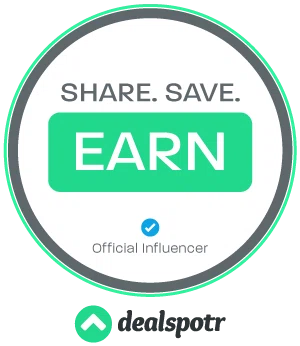 I do most of my shopping online these days. Why? I avoid the long lines at stores (especially during the holiday season). I can frequently get free shipping. And with a little bit of research, I can often find promo codes or discount codes that save me even more on my purchases! Of course, there are a lot of codes floating around on the internet, but many times they've expired by the time you find them. That's why Dealspotr is now my go-to place to find working codes. Why?
• Their content is "crowdsourced." That means that their 30,000+ members (like myself) add, edit and verify that the deals on Dealspotr are accurate.
• As you can see in
this study
, Dealspotr outperformed Retailmenot, Coupons.com and Groupon for the accuracy of their coupon codes.
• When you join the site, you can get your own personal feed of deals based on the types of items you like to purchase and the stores or brands you frequent the most. This way, you won't have to weed through a bunch of codes for stores or items that you'll never be interested in.
And here's another thing that I LOVE about Dealspotr. They actually pay you for sharing deals and promo codes. I get a lot of emails from retailers sharing their deals, and when I post a new one on Dealspotr, I earn points. After a certain number of points, I can cash them out for gift codes! In less than a week of posting deals, I already had the opportunity to cash out $30! And that was just for sharing promo codes I'd found with other people on the site. If you're a super deal-spotter, I'm betting you could easily beat my numbers in no time.
Here's another really cool thing about Dealspotr. If you have a blog or website, you can post your own personalized Dealspotr button there and earn points whenever someone joins Dealspotr (which is free) through your link. Plus, you get a percentage of the points they earn over the lifetime of their accounts! The more people you refer who use the site, the more points you get.
Another plus for bloggers is the ability to easily share deals on your blog thanks to Dealspotr's
deal sharing widget
. It even allows you to embed your affiliate links so you can earn more from your deal blog posts. You can also apply to become an influencer in Dealspotr's
Influencer Network
, which gives you lots of perks.
This has been a really busy time of year for me, so I am still learning all of the ins and outs of this amazing deal-sharing site, but I'm thrilled with the progress I've already made. I am having so much fun sharing new deals on the site, and I feel like I've won the lottery when I find that I have a new one to share. It's almost addictive! I've even been able to add new stores to Dealspotr's already large database of retailers. And, of course, watching my points increase is also a constant pleasure!
It's so easy to sign up at Dealspotr through your email or Facebook. They walk you through the steps of selecting your preferences so that you can be using the site right away. And did I mention that it's free? It's a win-win. Not only do you save money on your purchases by using the codes on Dealspotr, but you earn gift cards by sharing the deals and codes you've used. You have nothing to lose and so much to gain when you join Dealspotr. In just one year, they've saved shoppers more than $15 million. It's easy to see why they're one of the fastest-growing deal sites around. Click on one of the Dealspotr banners on this post and get started!

Disclosure: As an influencer on Dealspotr, I earn points that can be cashed out for gift codes when someone joins the site through my referral link.